U.S. Lifebuoy or an Investment Glove to Armenia's Authorities? Armenia-USA Energy Passions - 1
Whether Armenian authorities will shape an environment, where all companies- Armenian, American, Russian or other-can fairly compete, by that increasing investors' trust? If not, US will suspend its assistance. If yes, Armenia will benefit more.
INTRODUCTION
The statement by US Ambassador Richard Mills on the US interests and the investment potential of USD 8 billion in the field of solar energy in Armenia, made at Renewable Energy Development conference on May 17, 2017, left an impact of a strong earthquake with its after-shakes continuing until now.
Facing the wall of silence on the level of higher authorities, the statement provoked intense expert commentaries in that period, which then followed by distant dialogue between the government and US Ambassador, exposing implicit tension in Armenia-USA relations.
The developing discourse day by day revealed rather unexpected and subtle layers of the issue. Moreover, the Ambassador's statement became a sound challenge to the Armenian government—a US glove thrown down from the president to the PM in case, while it used to be a lifebuoy for the country and its authorities in 2015.
The answers to the questions like why the Ambassador now decided to open the brackets from lasting off-the-record discussions held in the cabinets of top officials, why he publicized the proposal of the Armenian authorities made to American side months before, and why he hinted at some bi-lateral commitments, are of paramount importance to reveal the reasons of the American glove and see hidden part of the iceberg.
Indeed, the statement of the US Ambassador is also a test for the Armenian authorities regarding how interested they remain in diversification of Armenia's economy and making use of any new opportunity, especially when they are acknowledged better and get convinced every day what long-term perspectives are awaiting Armenia's economy in EAEU. In the meantime, while involving in that union Armenia's authorities did not save effort to convince other global power centers on their willingness and readiness to diversify economic and security policies.
Finally, it uncovers another layer of West-Russia confrontation as well—heated struggle and competition between the two for Armenia, in Armenia and in the South Caucasus in the field of energy. Therefore, it's principal to know how the Armenian authorities will be able either to reconcile that conflicting interests on Armenian platform or maneuver amid contrasts, or serve geo-economic interests of one of the sides at the expense of fully or partially satisfying Armenia's national interests or up to sacrificing them.
SERZH SARGSYAN: "…COOPERATION BETWEEN ARMENIAN AND AMERICAN BUSINESSMEN IS ENCOURAGED AT A STATE LEVEL"
Source of ongoing developments goes back to spring 2015 with the background of Trade and Investments Framework Agreement (TIFA), signed by Edward Nalbandian and Dan Mullaney, Assistant United States Trade Representative, on May 7 in Washington, in presence of the President of Armenia Serzh Sargsyan[1]. By that Agreement
"Armenia and the United States affirm their intention to create investment friendly environment and promotion of turnover and trade between the two states," "create Armenian-American Trade and Investment Council, that will convene at least once a year," and which is "to explore new fields of bilateral investments and trade; and conduct works on their development and elimination of possible obstacles in the way."
Remarkably TIFA was signed in a year, when Armenia officially became a member of Eurasian Economic Union (EAEU) since January 1, which resulted in lasting uncertainties of EU-Armenia relations not only in economic, but also in other dimensions, given new commitments assumed by Yerevan in that union. However, compared to the EU, the USA did not avoid fighting for its enlarged relationship with Armenia in the very field of economy neither without having fears from perspectives of Armenia's restricted sovereignty, nor from uncertainties due to newly assumed responsibilities.
The agreement signed between Washington and Yerevan became its vivid proof, equally reflecting both American and Armenian interests, especially when neither local, nor foreign expert assessments gave an optimistic ground for EAEU economic perspectives against the background of economic sanctions strengthening against Russia on the one hand, and drop in price for energy resources in the international market on the other.
Moreover, the Armenian side inherently also realized all political, economic and security implications in the aftermath of country's increasing dependency on Russia. Hence, the US proposal seemed a lifebuoy for the Armenian side to restore the balance in country's foreign policy that was diverted because of September 3, 2013 decision on joining EAEU, and maintain relations of strategic importance to Armenia with other power centers as well.
At the meeting with the Armenian community of Washington on May 7, 2015 Armenia's president Serzh Sargsyan first of all mentioned more than 400 companies with American capital in Armenia, made reference to the largest American investment in the history—Contour Global LLC with a capital reaching USD 250 million, and then acknowledged[2], that
"It is no accident that just now we concluded the Trade and Investment Framework Agreement between Armenia and the U.S., which emphasizes the success of Armenia's economy and that of the economic cooperation between Armenia and the U.S., and opens up new collaboration doors. This means that the two countries encourage cooperation between their businessmen at a state level."
Then he urged all American and Armenian-American businesspersons "to continue getting actively involved in Armenia's statehood building efforts," "to move from charity to a mutually beneficial partnership" "especially when Armenia's membership in the EAEU opens up new horizons for such activity. We can benefit from the Generalized System of Preferences (GSP) in trade with the U.S., Canada, Switzerland, Japan and Norway, and we also benefit from the EU's new Generalized System of Preferences (GSP+) which implies that new markets are open to Armenian businessmen."
While Serzh Sargsyan appeared with similar messages in other Western capitals, too, however in Washington he personally guaranteed encouraging American investments and Armenia-USA cooperation on the highest level—at "a state level." Moreover, he also called on business representatives not be cautious about Armenia's membership to EAEU, just the contrary—benefit from new opportunities through GSP and GSP+ privileged systems and Armenian business, penetrating into large Eurasian markets.
Even if American business did not think of that "new" large market, in particular, when no signs were observed to eliminate or mitigate sanctions imposed by the USA and the EU against Russia because of Ukraine's crisis, however, they would definitely want to be assured about predictability, transparency and equality of rules of game in Armenia.
As further developments showed, the sides obviously had discussed it, and apparently, Yerevan and Washington reached agreements on a high level, content of which became clear after a while during public activity of the US Ambassador to Armenia.
ARMENIAN-AMERICAN SMALL SCANDAL ON CORRUPTION-INVESTMENTS TOPIC
Hosted by RFE/RL's Armenian service on September 16, 2015 US Ambassador rather openly touched upon both probable American investments and fight against corruption in Armenia, as well as their interrelation[3]. It's noteworthy that the interview immediately followed "Electric Yerevan" civic movement with the slogan "No to plunder", erupted during the summer of 2015 and uncovering[4] unprecedented volumes of corruption and plunder in "Electric Networks of Armenia" CJSC owned by Russian Inter RAO UES. It was a rather obvious didactical material for everyone, including the Ambassador to interrelate corruption, business and foreign investments.
He particularly stated, that, "Corruption prevents the interests we share with the Armenian people, our goals for the Armenian state and for our relationship. <…> Corruption sets back economic growth, it hurts human rights development, and it undermines democracy. I think it even undermines the national security of a country where there's corruption. Outside forces can control the development of your country"
"And the question is whether the government has tools and a political will to fight corruption, whether there is a civil society that can help partner with the government to fight it. So that's our goal help the Armenian government have the tools it needs, help the civil society, help the Armenian people stand up and put a spotlight on issues of corruption and help fight it."
In his statement regarding civil society, Ambassador Mills called on its representatives not to give up from the failure of mass movement "Electric Yerevan", but to cooperate with the authorities within fight against corruption, which became a top issue in energy sector, especially when Serzh Sargsyan proposed young civil activists, first to talk, then after getting refusal get involved in the audit of "Electric Networks of Armenia" CJSC.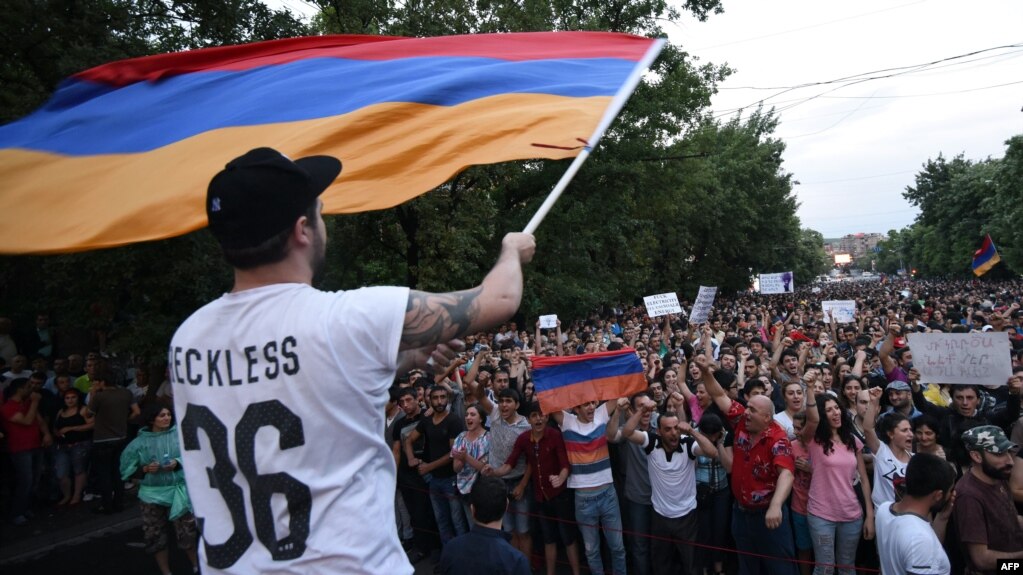 During the consultation with government officials in charge of economic policy held on June 27, 2015 Serzh Sargsyan particularly announced[5], "During yesterday's meeting with the delegation headed by Russian Transport Minister Maksim Sokolov, Co-Chairman of the Armenian-Russian Intergovernmental Commission for Economic Cooperation,
we stressed that the commission needs to initiate a careful and comprehensive audit at Electric Networks of Armenia CJSC – a subsidiary of Inter RAO UES JSC – with the participation of experts and civil society representatives.
Yes, there might be some problems in the subsidiary enterprise, but our governmental bodies have done their best not to include them in the tariff. Nevertheless, we are interested in the possible problems of that company, because we, as a state, seek to increase corporate profits to collect greater corporate taxes. In this respect, not only the Russian side, but also our side needs to carry out an important work."
Returning to the interview of Ambassador Richard Mills, especially the fragment where he is asked what consequences will be if Armenia's Anti-Corruption Council fails, was rather expressive, "I don't want to assume that they'll fail. But I think if we can address this larger issue of corruption, which I understand is a serious issue here. I know it affects so much Armenia's daily life, it'll affect a large part of our relationship, specific areas, for instance, investments. I'm very committed to grow in commercial ties, investment ties between Armenia and the US, I think it's something that now it's the time to focus on it. But to attract US investments investors need another area entering into a climate, where everyone is treated at the same, there is no unfair competition, where government services are equally available to everyone. So, if we don't see the Corruption Council address those things, I think it'll hurt the opportunities for investments here."
"When a US company believes that they're being treated fairly that the government treated them like anyone else, we can see that investment come. So that's why I'd like to see that Corruption Council achieves."
By the way, in that interview the US Ambassador confirms that Armenia's authorities intend to see in Armenia not only Armenians from the Diaspora in the US, but generally investment programs of American businessmen, which "bring activity, international standards of operation management devoted to corporate social responsibility principles," which, he believes, "they [the authorities] asses here."
However, the Ambassador reminds afresh, "building transparency, building accountability principles into Armenian life and Armenian governance, this works to all our programs, it's a part of everything we do. <…> We will work with this [Anti-Corruption] Council, but as I said we expect to see actions, words aren't enough. And we'll constantly evaluate our cooperation with the Council and if with the time we don't see the kind of commitment, that kind of actions that PM and the Council itself says they want to take, it'll re-evaluate our relationship with the Council."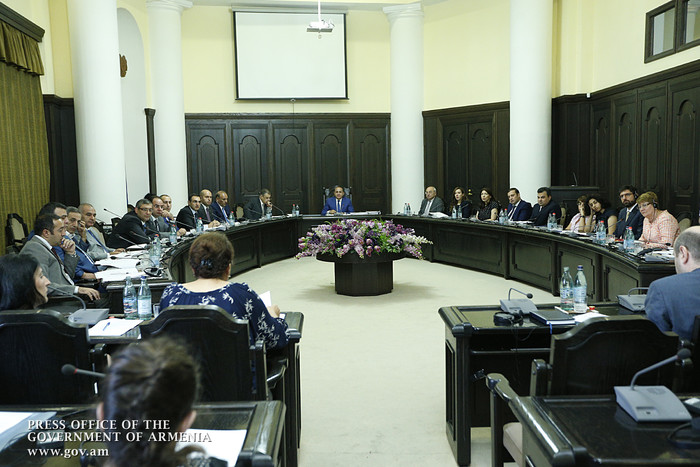 Apparently, Vahram Baghdasaryan, Head of ruling RPA (Republican Party of Armenia) faction at the National Assembly of 5th convocation, wasn't acknowledged on high-level commitments between Armenian and US authorities on Armenia-USA trade and economic cooperation, when he made impermissible statements linked to the interview of Ambassador Mills with RFE/RL[6], "Simply my wish will be that representatives of the diplomatic corps, moreover, Ambassadors of leading powers, carry out diplomatic and political activity and didn't give such assessments. I consider it a private opinion…In general, conclusion should be drawn from any statements, let it be that of an ambassador or an ordinary citizen, but they shouldn't be taken seriously and I don't think official response should be given to it."
Armenian media outlets, making reference to an unknown source, informed that tough assessments by RPA faction Head made angry[7] not only the US Embassy, but Serzh Sargsyan as well. No one but Serzh Sargsyan perfectly realizes what lies on the scale and what implications it may have for himself and the country, especially, when the sides assumed responsibilities on a highest level. Thus, not accidentally, in the forthcoming days Serzh Sargsyan clarified the situation through RPA faction Secretary and hinted the US Ambassador[8] that the faction Head didn't express the view of the country's president…
Obviously, Armenia-US diplomatic scandal of 2015 did not end by that, as after a while—on November 10, 2015 Ambassador Mills not only repeated and directly referred to his statements made in the above-mentioned interview, but also provided detailed outlook of Armenia-US bilateral agreements and US policy and their interrelation on the platform, where representatives of the authorities of both sides were present.
Judging from official silence following that speech the Armenian side agreed to those conditions…
US AMBASSADOR TO ARMENIA RICHARD MILLS, "IT'S ARMENIA, THAT SHOULD BE ATTRACTIVE TO INVESTORS"
On November 10, 2015, addressing before the American Chamber of Commerce in Armenia (AmCham), the US Ambassador Richard Mills appeared with a program speech, introducing 4 policy priorities of Washington in Armenia[9]: 1) deepening the business and trade relations between two countries with the prospect of boosting US direct investment in Armenia, 2) the fight against corruption, 3) strengthening democratic institutions, human rights, and civil society in Armenia, 4) better explaining the broad range of U.S. foreign policy goals—not only bilateral policies and shared goals with Armenia, but towards the world in general.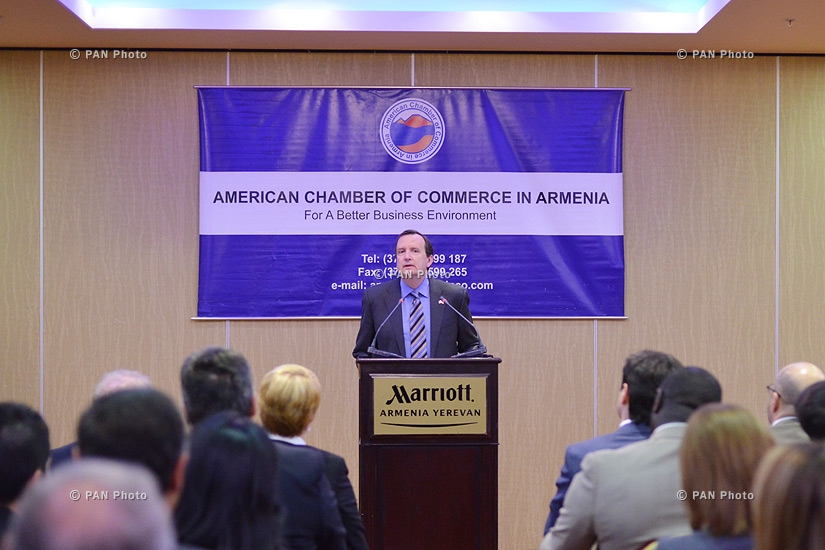 Despite the Ambassador introduced four priorities as interrelated and complementary, and all of them directly or indirectly affect Armenia-US trade and economic cooperation in general and to energy sector in particular, we'll make a more detailed reflection on the first two as the most relevant to recent developments.
1. Deepening the business and trade relations between two countries. Reflecting to this priority the US Ambassador particularly stated, "The Armenian economy has reached a level that offers significant new opportunities for commercial relations and investments in a range of sectors. The kind of trade opportunities that merit both governments taking the sometimes difficult steps to synchronize trade-related regulations, legal regimes and customs law."
To discuss likewise issues the US and Armenian governments established the US-Armenia Council on Trade and Investment, also known as the TIFA Council, which held its first meeting on November 17, 2015 in Yerevan. The Ambassador acknowledged that "key trade topics related to customs, intellectual property rights, non-tariff trade barriers, and government procurement" will be discussed during that meeting with the participation of representatives from the office of the US Trade Representative and other agencies, consulting with the private sector representing US business and "advocating on the issues that are of importance to business, to people like you in this room."
The Ambassador also mentioned another important gathering [10]—the annual meeting of the US—Armenia Task Force, or USATF, to be held in a few days, on November 19, 2015, the goal of which was "for both governments to engage in a big-picture economic policy dialogue on important issues that will influence Armenia's economic growth and trade for years to come."
As Ambassador voiced, that year's discussion items included fighting corruption, Armenia's future energy strategy, water management, civil aviation and Open Skies, the unified tax code, and the Extractive Industries Transparency Initiative.
To strengthen and enrich the bilateral commercial relationship between Armenia and the United States by boosting commercial ties between the two, the US Embassy in Yerevan and the US Commercial Service in Moscow, in partnership with Ameria Management Advisory Services, organized[11] another event—a one-day business conference—on September 22, 2015 in Yerevan. More than 50 business representatives and entrepreneurs, among them two US corporations, attended the conference, focused on franchise business opportunities.
| | |
| --- | --- |
| | |
As for energy sector in particular, a delegation of 11 academics and policy experts, specializing in clean energy development, were in Armenia [12] from 6 to 8 October, 2015, for a three-day exploratory session. The group of subject-matter experts—a Partnership Opportunity Delegation, organized by the State Department's Office of Global Partnerships, in Yerevan discussed issues around Armenia's renewable energy and energy efficiency sectors. As the embassy's press release reads, they visited Armenia "to gain a better understanding of the successes, challenges, and needs in Armenia's green energy sector <…> and study the barriers to entry that exist in Armenia in the field of renewable energy."
As a proof of constant interests and practical manifestation of the American side, in his speech Ambassador Mills referred to those two events. In his turn, reflecting to and praising for Contour Global's acquisition of the Vorotan Hydroelectric Cascade, a 250 million dollar deal[13], as a result of which one of more innovative companies in the US—Contour Global, entered Armenia's energy sector by its experience and management technique, the Ambassador stressed, "Contour Global made this investment, and received the support of the Armenian government, because it made good commercial sense."
Beyond the Ambassador's short assessment and praises addressed to the Armenian authorities, there is something else that official Yerevan had done: during 2014 the issue of legality for the agreement on sale of Vorotan Hydroelectric Cascade was raised at the NA by oppositional faction Armenian National Congress (ANC). Its representative insisted that the agreement of RA government with Contour Global was signed without the consent of the National Assembly[14].
It is difficult to state without ambiguity how much interested in invalidation of the agreement the then PM Hovik Abrahamyan was in this very period, who was appointed in that position under the pressure of consolidated four non-governmental parties loyal to Russia—Prosperous Armenia Party (PAP), Armenian National Congress (ANC), Armenian Revolutionary Federation-Dashnaktsutyun (ARF) and the Heritage. Among them ANC raising the issue of legality of the agreement, did not hurry in the spring of 2014 to announce that change of the government is the victory of those four parties. However, no matter what shadow collaboration Hovik Abrahamyan had in that period with leaderships of four political parties, obviously, Serzh Sargsyan did not allow failure of the deal: Hovik Abrahamyan signed[15] it in early June[16] of 2015, while the government of Tigran Sargsyan concluded it on November 27, 2013.
By this the Ambassador perhaps hinted that in 2014-2015 Serzh Sargsyan and his governments headed by Tigran Sargsyan and Hovik Abrahamyan kept the given promise and encouraged American investment on a state level, and if Armenian authorities long for new and bigger investment programs even by similar commercial grounding, then they should do more.
This part of the Ambassador's statement perhaps is worth not only full citation, but describes what Washington and American businessmen anticipate from official Yerevan to implement new investment programs,
"Let me stress something that all of you in this room know—the U.S. Embassy cannot force US businesses to invest in Armenia. It is up to Armenia to attract that investment, as it did in the case of Contour Global. Fundamentally, companies invest where there is predictability and transparency, in everything from taxation to customs regulations to court proceedings."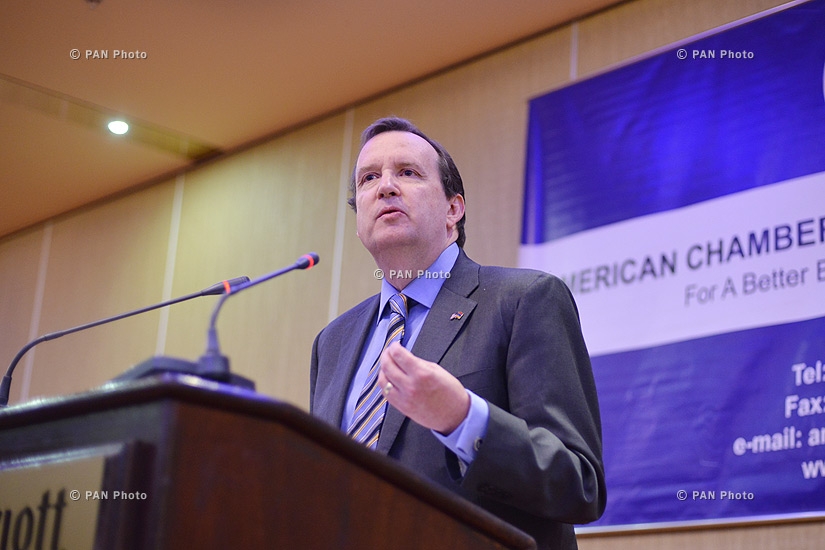 Accordingly, Ambassador Mills concluded,
"Therefore, the US Embassy will focus its work on helping to create a business environment in which all companies – Armenian, American, Russian or whatever—can compete fairly, thus increasing investor confidence."
U.S. AMBASSADOR TO ARMENIA RICHARD MILLS: "IT'S IMPORTANT WHETHER THERE IS A POLITICAL WILL TO FIGHT AGAINST CORRUPTION"
Thus, in the context of the necessity to "provide equal conditions in Armenia's business and investment environment, and entrepreneurship" and in their interrelation the US Ambassador expressed the second priority of US foreign policy—fight against corruption.
2. The fight against corruption. "But corruption affects more than just the economy. Corruption undermines democracy and rule of law. It breeds instability and mistrust in institutions, and it can threaten a nation's national security," stated the Ambassador, speaking about the very real toll that corruption exacts on Armenia.
"I hear about that toll from potential U.S. business investors and from average Armenians as I travel the country. When competition among businesses is not fair and not based on objective commercial criteria, when there are powerful interests that have disproportionate economic and political influence, it limits economic growth. The whole economy – indeed the whole country –suffers. Foreign businesses vote with their investment dollars; if they see a country suffering the ills of corruption they either don't invest at all, or may decide to pull their money out. Among Armenians, the burden of corruption falls on the most vulnerable, the small business owners struggling to start and maintain their operations."
Ambassador's hint was clear: due to the influence of powerful interests in the country, fair competition is distorted, which doesn't rely on objective commercial criterion. That's why the American side was going "to discuss key trade topics related to customs, intellectual property rights, non-tariff trade barriers, and government procurement, <…> suffering the ills of corruption" during the TIFA Council's first meeting with the participation of the representative from the office of the US Trade Representative, other offices and private sector, to be held 7 days later—on November 17, 2015.
The Ambassador also warned, "My decision to devote US Government attention and resources to fighting corruption is not one made in a vacuum. The impetus comes from the very top of the U.S. Government. In his 2015 National Security Strategy, President Obama outlines why America – at all levels and in all sectors – is partnering with nations and institutions fighting corruption across the globe," i.e. depth of all kinds of USA-Armenia, including business and trade relations is conditioned by results recorded by fight against corruption as well. Having said that the Ambassador apparently clarified his statements made at RFE/RL, which stirred strong reaction among certain government circles. Ambassador Mills hinted that his assessments are not allegations of an individual diplomat, but come from above, with whom Armenian authorities had come to an agreement.
Accordingly, US Ambassador added,
"Of course, corruption happens everywhere, including in the United States. The key questions for any nation are whether there is a political will to attack corruption, whether the media and civil society feel empowered to speak out against corruption, and whether there are reliable judicial processes in place to investigate and prosecute the cases that are brought to light."
Expressing willingness to support both civil organizations and governmental bodies, including Anti-Corruption Council by grants within fight against corruption, the Ambassador stated in name of the US, "Our financial assistance to the Council supports concrete activities, such as the continued development of its anti-corruption strategy and the establishment of an action plan.
I would like to emphasize that we have conditioned our support to the Council on the attainment of measurable achievements. If the Council does not deliver, our support will end, plain and simple.
We also encourage NGOs to serve on the Anti-Corruption Council, for we see it as an opportunity for civil society to constructively engage in direct dialogue with the government."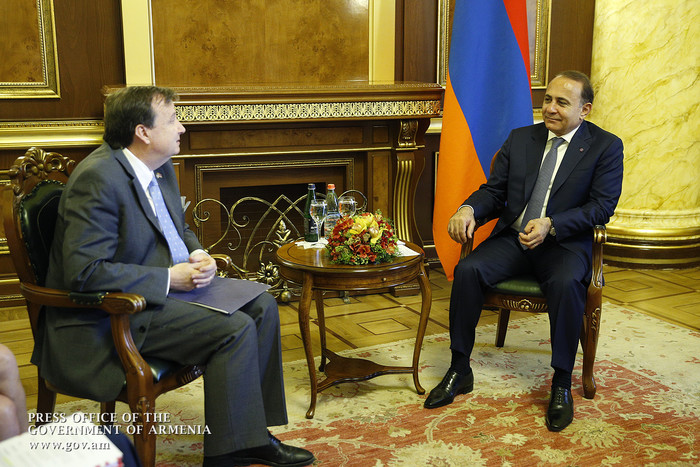 By the way, touching upon the third priority—strengthening democratic institutions, human rights, and civil society in Armenia, he addressed both the government and the civil society in a diplomatic language for their non-constructiveness and not being interested in cooperation within the fight against corruption, "While such examples of effective government and civil society cooperation exist, much more is needed. I want to encourage both the Armenian government and civil society organizations to more fully embrace constructive engagement. Too often, the Armenian Government does not reach out to civil society to consult on matters of shared interest or to take advantage of their expertise. And when opportunity does present itself, civil society is sometimes skeptical and hesitant to engage with the Government. Members of civil society must take the lead in constructively pushing for the reforms they want to see in their country.
Protests can galvanize the public and serve to create an environment for change, but setting realistic goals, engaging with government, and building advocacy are equally important and require both patience and dedicated work."
Obviously, the Ambassador hinted at "Electric Yerevan", when, on the one hand, the civil society refused to involve in uncovering the corruption scandal, on the other hand, the country's president and the government proved by their behavior that their proposal to the civil society was more formality, as they didn't dig into years of corruption in ENA CJSC, but just seized the opportunity to change the company's owner.
Perhaps, motivations of the Armenian authorities in calming down and splitting "Electric Yerevan" movement, as well as their fears to go further in uncovering corruption schemes in the activity of Russia-owned company since 2005, are hidden here.
It attracts attention that in his interview of September 16, 2015, Ambassador Mills considers the corruption for external powers as a tool to "control the development of the country" and "prevent, restrict its economic growth." Moreover, that assumption has close relation to his another statements of November 10 on "unfair competition in business," which is "not relying on commercial criteria." If we observe all that in the context of uncovered corruption exposure in ENA CJSC, it becomes clear to what and whom the hint of the US Ambassador was addressed.
Incidentally, in his speech of November 10 touching upon US positions in the wider region and with Russia and Iran in particular, Ambassador Mills, referring to the first one, said "What we wanted, what we still want, is a strong, democratic Russia that respects the rule of law at home and abroad, and its neighbors' sovereignty; <…> But cooperation [Russia-US] can't continue when Russia tramples on the rules of the international system, when it bites off pieces of its neighbors' territory and tries to bully them into economic and political submission."
Here is the hint hidden behind the Ambassador's diplomatic formulations: economic and political obedience of the countries, which is implemented by external powers through use of corruption, thus creating threats and obstacles for national security and economic growth, in this case for Armenia.
Thus, in 2015 Washington's intention was to voice "whether Armenian authorities will manifest a political will," "whether the Anti-Corruption Council and the strategy will record measurable achievements," and whether "they'll shape an environment, where all companies can fairly compete, let it be Armenian, American, Russian or other company, by that increasing investors' trust." If not, US will suspend its assistance. If yes, Armenia will benefit more.
By the way, another indirect condition or wish may be observed in the following statement on Armenia-Russia relations, "But, fundamentally, there is a current of distrust between the U.S. and Russia, and I am asked often by Armenians about how this affects the way we view the Armenian-Russian relationship. Let me say that we recognize, as a reality of geography and history, that there is a significant Russian presence in Armenia, and that you have strong, historical ties. I believe, as I think most Armenians do, that this strong Armenian-Russian relationship, and Armenia's memberships in the Eurasian Economic Union and the Collective Security Treaty Organization, should not and do not preclude Armenia from also pursuing strong, mutually beneficial relations with the United States, the European Union, and other potential partners, as well as with organizations like NATO and the Council of Europe… These relationships are not mutually exclusive. It is not a zero sum world."
That is to say, Washington not only understands Yerevan's strategic and political choice in favor of Russia, EAEU and CSTO, nevertheless, it also considers they shouldn't prevent and won't prevent development of Armenia-USA, Armenia-NATO and Armenia-EU relations. It is hard to believe that that was unilateral goodwill or desired imagination of senior American diplomat or even official Washington. Official Yerevan's numerous statements on multi-vector foreign policy and not building relations with one global power center on account of the other, and maybe additional assurances given by Serzh Sargsyan while signing TIFA in Washington on May 7, 2015 perhaps are worth considering as a last condition between both sides. Right, in this case already a foreign policy or a geopolitical condition. And as the US Ambassador has formulated, they don't perceive Armenia's Eurasianisation as Russia's victory and defeat of the USA.
Apparently, comprehensive and in-depth analysis of developments unfolded in 2015, reveals those agreements, which the parties have defined for the future and violation of which by any of the parties would generate new storms in bilateral relations.
In the meantime, developments in the field of American investments, Armenia-USA trade and economic partnership with certain refluxes, in particular, in the field of renewable energy sector, were just evolving…
To be continued
REFERENCES
---