Georgia's being a model country will become even more evident in near future, when that country starts gaining benefits from free trade with the EU and China, as well as visa free regime with the EU. Meanwhile, drop in oil prices, Western sanctions and further possible strengthening more engrave Russia's economic condition and don't promise any good perspective in Armenia's choice of EAEU.
SUMMARY POINTS
⇒ Comparatively successful course of Georgia's Europeanization is well correlated with Russia-Georgia war (August 2008), erupted a year before the official inauguration of Eastern Partnership (EaP).
⇒ Within the frame of European Council meeting, launched in Brussels on June 2, 2014, Georgia (also Moldova and Ukraine) signed the Association Agreement (AA) with the European Union (EU), initialed around a year ago at the Vilnius Summit.
⇒ Currently Georgia is in top positions among EaP member countries, attesting its leadership by signing the AA with the EU, including establishment of Deep and Comprehensive Free Trade Area (DCFTA), as well as visa free regime defined by the EU for citizens of Georgia since March 2017.
⇒ Enduring moves toward NATO membership is also an indicator for Georgia's sustainable pro-West orientation.
⇒ Amongst the South Caucasus countries, Georgia is considered as a model country due to successful absorption of EU's normative power and conformity to its norms.
⇒ Comprehensive analysis of this research reveals some conclusions on Georgia's being a model country.
INTRODUCTION
The August 2008 war was strongly correlated with Georgia's European and Euro-Atlantic aspirations. It delivered a specific message on Russia's decisiveness, addressed not only to Georgia and other EaP post-Soviet member countries, but also to the West. Russia believed if any counter-step isn't undertaken against enlargement of the EU and, particularly, of NATO, then regional countries, in all likelihood, would have joined them in near future, and NATO troops would be deployed in bordering regions of paramount importance to Russia as a result. Such an understanding is reflected in the statement of former Russian president Dmitry Medvedev (2008-2012) made in 2011 in Vladikavkaz at the meeting with military officers, "If in 2008 Russia was slow, than a different geopolitical order would be established, and several countries, which are artificially attracted to NATO, in all likelihood, would have been there[1]."
According to Medvedev after the August 2008 war neither Georgia nor other post-Soviet countries, against membership to NATO of which is Russia, didn't join the North-Atlantic Treaty (in early April 2008, prior to August 2008 war, NATO Summit in Bucharest made a decision, that if complied to the defined norms, Georgia should become a NATO member).
It should be noted that days after the war—on August 26, Russia (later on a few other states as well) recognized independence of South Ossetia and Abkhazia, then launched embassies and strengthened its military presence in those republics. In response, on September 2, 2008 Georgia announced on cutting diplomatic ties with Russia, accusing the latter of occupying its territories.
In parallel with all this, considerable wave of anti-Russian moods raised in Georgia's both social and political circles, which in its turn, laid a fertile ground for Georgia's successful course within EaP. As Georgian expert Tornike Sharashenidze highlighted, EaP was widely welcomed in Georgia largely for the reason that it was officially launched right after Russia-Georgia war of 2008, accordingly, it was perceived as the EU's response (in its own way) to Russian aggression[2].
By the end of August 2008 war, Georgia's president M.Saakashvili announced on his intention to exit the Commonwealth of Independent States (CIS), accusing Russia in aggression against Georgia and occupation of its territories. On August 14 Georgian parliament supported that decision of Saakashvili, then on August 18 Georgian Foreign Ministry informed CIS Executive Committee on leaving the organization. Pursuant CIS charter Georgia's withdrawal was recorded 12 months later—on August 18, 2009.
Thus, that time largest anti-Russian mood dominated in one of the biggest supporters of Europeanization among EaP member countries—Georgia. However, it was yet to digest EU norms and implement due reforms to push forward the process of Europeanization in the country.
GEORGIA'S PATH IN EaP
Prior to Vilnius: Georgia's main achievements and recorded success in EaP refers to the years following the Vilnius summit of November 2013. Signing of EU-Georgia Visa Facilitation and Readmission agreements in 2011, prior to Vilnius Summit, are noteworthy to mention. In parallel with it, considerable changes were implemented in Georgia's domestic policy, which contrary to anticipations, didn't divert Georgia from the preferred western course.
At parliamentary elections, held on October 1, 2012 in Georgia, Bidzina Ivanishvili's Georgian Dream opposition block defeated the United National Movement party headed by M.Saakashvili. It's noteworthy that by these elections peaceful regime change was recorded democratically in a South Caucasus country for the first time after independence. Moreover, exactly 1 year later—in October 2013, the candidate of Saakashvili's party was defeated in Georgia's presidential elections, and Giorgi Margvelashvili, candidate of Georgian Dream, was elected as the president. Conspicuously, the year of 2012-2013 was a hard period of coexistence for the ruling block and Saakashvili. Coming to power the Georgian Dream announced that it'll continue the country's external political course to the West, however, alongside with it, it stressed on its support to having not conflicting, but normal relations with Russia. Meanwhile Saakashvili was renowned with his sharp criticism addressed to Russia.
A range of important factors led to defeat of M.Saakashvili and his political party at Georgia's presidential and parliamentary elections, among them:
1) Russia-Georgia war and its implications.
2) Russia-defined embargo on importing Georgian wines and mineral waters from March 27, 2006. To imagine volumes of Georgia's economic loss and stemmed discontent among the society it should be mentioned that in 2005 around 60 million bottles of Georgian wine have been imported to Russia, comprising 70% of the country's wine export.
3) Desire of the Georgian society to improve relations with Russia, to see positive changes in the field.
4) Almost full dependency of Georgia on Azerbaijan in importing gas due to its confrontation with Russia.
5) Absence of practical steps by the West regarding Georgia's membership to the EU and NATO, and frustration by certain part of Georgian society as a result.
6) Saakashvili's statement of February 2012 on unilateral cancellation of visa regime with Russia, effective since 2000, to which Russia didn't respond symmetrically. It also served a reason for deep disappointment and was perceived as a sign of Saakashvili's weakness.
7) Russia's membership to the World Trade Organization (WTO) on August 22—more than two months before Georgia's parliamentary elections of 2012. Earlier Saakashvili had hindered that process, and Georgia, as a WTO member, put a veto on Russia's membership. However, under the US pressure it had to withdraw its veto.
8) Saakashvili's persecution against Ivanishvili after the latter announced on his plans of enrollment into the political struggle on October 5, 2011. Days later—on October 11, Saakashvili deprived him of Georgian citizenship.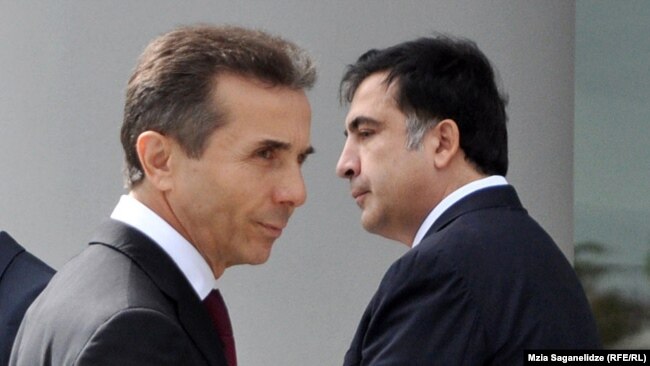 9) Publication of video footages on sexual abuse and torture against Georgian prisoners two weeks prior to parliamentary elections—on September 18. Mass protests followed in several Georgian cities (Tbilisi, Kutaisi, Batumi, Zugdidi, Poti, Rustavi), participants of which claimed to protect human rights, punish the guilty and resignation of Khatuna Kalmakhelidze, the then Minister of Corrections and Legal Assistance of Georgia. She resigned on September 19, and on September 20 Bacho Akhalaya, Georgian Minister of Internal Affairs, followed her example. According to some experts, publication of these very footages, causing deep social anger, had a decisive impact on election results.
It is worth emphasizing that after coming to power the Georgian Dream continued the course of deepening relations with the West, as it perfectly realized that most part of the population has already made that choice. Existent Russophobia in Georgia and pro-West orientation among considerable part of the society were the after-effect of Russia's actions against Georgia. Under the current state of affairs, the Georgian Dream undertook steps toward reset of economic and cultural ties with Russia, while restoring diplomatic relations with Russia was left to the future due to its complicacy.
Already in mid-June of 2013 the Georgian Dream succeeded in restoring export of Georgian wine to Russia, (banned in the period of 2007-2012), which became its biggest importer yet in mid-November (5 months later). What is more, Georgian wine export to Russia increasingly grew, so the latter continued to maintain its leading role in wine trade. In 2014 Georgia exported 37.615.100 bottles of wine to Russia, which comprised 63.7% of entire wine export. Besides, in 2014, volume of Georgian wine exported to Russia grew by 63.5% compared with 2013.
By the way, on the one hand, Saakashvili insisted that Russian embargo helped to raise the quality of Georgian wine and conquer new markets, on the other hand, he predicted that number of tourists will so grow in Georgia that there will be no need to export wine, already being consumed inside the country.
The Georgian Dream succeeded to restore not only supply of Georgian wine, but also mineral waters and agricultural products to Russia, and this played a considerable role on pre-determining the results of 2016 parliamentary elections. It is not excluded that in near future Russia will also cancel the visa regime defined for Georgian citizens. The Georgian Dream also made efforts to "calm down" Russia regarding Georgia's course within EaP. In November 2013 the president-elect G.Margvelashvili stated that EaP isn't directed against Russia, "It increases our economic prosperity, security and stability in our region, which is beneficial for Russia as well [3]."
Moreover, Georgian authorities adopted the following policy principle—good relations with Russia in the meantime implementing the package of reforms defined by the EU.
In January 2013 during his visit to Yerevan, in an interview with radio "Liberty" Armenia, Georgian PM B.Ivanishvili stated that Armenia having good relations with both Russia, the US and NATO member countries, serves a good example for Georgia[4]. This was quite a surprising statement since presently it's more accepted in Armenia and the West that Georgia itself is a model country in the South Caucasus. Meanwhile, months before the Vilnius Summit, Armenia was almost in equal course with Georgia, and the EU assessed excellent the preceding negotiation of 3.5 years with Yerevan over the AA to be initialed in Vilnius together with Tbilisi. As a result, due to the well-known developments, Armenia didn't initial it, while Georgia did, thus, becoming a leading model country in the South Caucasus.
After Vilnius. In November 2013 considerable results were recorded at Vilnius EaP Summit. Not only Georgia, but also Moldova initiated the AA. This was a rather tangible achievement for both the EU and the initialing countries, as firm grounds were established for further cooperation. Initialing and later on—signing of the AA was also stressed by Georgian authorities in terms of solving the country's territorial integrity issues. In this respect, it's noteworthy to quote G. Margvelashvili stating that the AA is the main road map of Georgia's transformation to a contemporary European state, "Association in occupied Abkhazia and Tskhinvali region is a key of reconciliation and reunion with our compatriots as only by attractiveness we'll return those regions to the Georgian state[5]."
Remarkably, all preparation works for initialing the AA were implemented in the period of M.Saakashvili's ruling, including implementation of due reforms defined by the EU. Georgia's new authorities consider European integration a crucial step on its way to joining NATO, and in this regard initialing of the AA was an important guideline for Georgia's Euro-Atlantic aspirations as well. Along with Moldova and Ukraine, Georgia signed the AA in June 2014, in Brussels, a year after initialing.
On its way to European integration, Georgia has constantly complained that as a leading EaP member country it does not enjoy equal treatment by the EU contrary to its aspirations of membership, as various officials stated in their speeches. Thus, former Georgian PM Irakli Garibashvili (2013-2015) stated at the Atlantic Council in February 2014, "At the background of current dramatic events in Ukraine, it is increasingly becoming obvious that certain foreign pressures play a destructive role not only on regional stability but also on sovereignty and territorial integrity of our nations – Georgia, Ukraine, Moldova. Unless the European Union gives a clear promise of membership to the successful countries of the Eastern Partnership, then this crisis, similar to Ukraine, will happen again and again[6]." Though Garibashvili expressed this point of view prior to signing the AA, the situation remained the same afterwards. Vivid evidence is the statement by T.Khidasheli, Defense Minister of Georgia, in September 2015 at the conference on "Europe's new geopolitical landscape," according to which Georgia faces immense challenges because of Russian aggression, "No one can know what will happen to Georgia in two, five or ten years, if Russian aggression continues, and we won't become a NATO member, ten years later we won't have power to fight for joining the Treaty. The aggression of our northern neighbor toward us is an issue of life and death[7]."
After signing the AA Georgia's biggest achievement in EaP was EU visa free regime for citizens of Georgia from March 28, 2017. This is of paramount importance for Georgia's authorities. They are hopeful that due to it they'll succeed to reach to the point when people in Abkhazia and Ossetia will seek for Georgian passports to freely travel to the EU.
By the way, Mamuka Areshidze, expert on Caucasus issues, stated in 2011 that Georgia should first think of returning not Abkhazia, but its people to save them from assimilation and disappearing in the territory of Abkhazia[8]. Thus, the EU visa free regime for Georgian citizens may instigate enthusiasm among Abkhazians and Ossetians, making Georgian citizenship attractive for them. They perfectly realize in Georgia that Russia is unable to propose such opportunity to inhabitants of Abkhazia and South Ossetia. Yet in December 2015 Paata Zaqareishvili, Minister for Reconciliation and Civic Equality of Georgia, stated during one of his speeches, "I have close ties with societies of Abkhazia and South Ossetia and I know that visa liberalization will bring big privileges. Every year 300-400 people receive Georgian passports and their number will increase as a result of visa free regime with Georgia. It's obvious that Georgia's European integration will have a positive effect on Georgia-Abkhazia and Georgia-South Ossetia relations [9]."
Thus, summing up Georgia's achievements following the years of Vilnius Summit, it's obvious that this country is a leader in the South Caucasus in terms of both signing the AA and liberalization of visa regime.
CONCLUSION
1. Firstly, Georgia suffered for its European choice (2008 August war), then only years later it recorded certain progress in relations with the EU and NATO: signing of the AA, including DCFTA, obtaining visa free regime, establishment of NATO training center in Georgia.
2. these achievements, on both fronts (EU, NATO) Georgia strives to reach more, in particular, membership in those organizations.
3. It's clear that regarding EaP there is certain misunderstanding between the EU and Georgia. Despite the fact that leaders of European countries, EU representatives have repeatedly stated that EaP doesn't envisage membership of a country to the EU, in their turn Georgian authorities have repeatedly set the requirement of their country's membership before the EU. Moreover, to succeed and accelerate Georgia's membership both in the EU and NATO, its authorities constantly alarm on Russian threat, stressing if the membership for a front-country won't be recorded soon, Georgia may even disappear from the map.
4. Both the EU and NATO continue their policy of praising Georgia, creating new opportunities for it and encouraging the policy of small steps, however, both organizations don't fully meet Georgia's expectations. In June 2014 M.Saakashvili stated that Georgia is more ready for NATO membership, than several countries in the Treaty. Commenting on the statement that Georgia will be offered Substantial NATO-Georgia Package (SNGP) but not Membership Action Plan (MAP) in NATO Wales Summit to be held in September 2014, M.Saakashvili responded, "It looks like giving Chupa Chups instead of supper." Apparently, that approach of NATO is linked to the desire not to irritate Russia, since the EU and NATO are not ready yet to enter into a serious confrontation with it for the sake of Georgia.
5. As a result, despite Georgia gains the maximum from EaP, judging from the statements by the Georgian side, there is an impression, that it remained halfway. Without membership to NATO Georgia considers its process of Europeanization incomplete.
6. Georgia intends to become a NATO member country to feel itself protected from Russia (Article 5, NATO Charter). However, Russia's posture and Georgia's territorial issues are a big obstacle on that way.
Reflecting to the research question on whether Georgia may become a model country for other South Caucasus countries in terms of its successful European course, it should be noted, that
a) From the perspective of implementing respective reforms in compliance with EU criteria, yes, Georgia is a leader in the South Caucasus and may be a model country. Throughout recent years in various international ratings Georgia takes higher positions compared to Armenia and Azerbaijan. Moreover, since 2005 Georgia demonstrated the best results from the perspective of implementing reforms globally, as evaluated by "Doing Business 2014" report, published by the World Bank and International Finance Corporation[10].
b) On the other hand, from the perspective of compatibility of relations with two power centers, throughout recent years Georgia itself has taken an example from Armenia (statement by B.Ivanishvili). Here the matter is foreign policy orientation of the two countries: if Russia's strategic ally Armenia also continues developing relations with the West, then Georgia, deepening ties with the West, attempts to keep normal relations with Russia at the same time. (In 2014 Zakareishvili stated that Armenia and Georgia may become an original bridge in relations between the EAEU and the EU).
c) Georgia may serve a model country in terms of creation of conditions for and involving foreign investments as well. Georgia, which adopted the European course, held the first place in the world in the period of 2005-2006, rising by 37 horizontals—from 175 to 112. In the report "Doing Business 2011" Georgia was already the 12th out of 183 countries and by that index it was the leader in the post-Soviet space (Armenia was ranked the 48th)[11].
d) All this couldn't have a positive effect on attracting investments. Based on the data issued by the National Statistical Service of Georgia in 2016, foreign direct investments comprised USD 1 billion 645 million, which 12 times exceeded foreign direct investments made in Armenia (USD 130.4 million)[12].
e) Georgia may also become an example regarding signing free trade agreements. It should be noted that if Armenia preferred EAEU (market of 170 million), then Georgia preferred the EU (market of 500 million). By the way, Georgia recently signed a free trade agreement also with China (market of more than 1 billion), which edifies that having free trade agreements with two different centers (EU, China) is acceptable for Brussels (both…and). Meanwhile it's known that in 2013 the EU refused "both…and" option for Armenia regarding membership to EAEU. Through Georgia's example, the EU showed that existence of "both…and" is possible, however, not regarding EAEU. The difference between EU's two postures is conditioned by the fact that in case of Georgia it is about single customs union and multi-lateral free trade, while in case of Armenia it is about incompatibility of two customs unions. As a result, Georgia acquired a market of 1.5 billion, which almost ten times exceeds the market of 170 million, "preferred" by Armenia.
It should be stated that throughout recent years Georgia and China are engaged in active trade: China has become Georgia's fourth largest trade partner. China is a trade partner of paramount importance especially for Georgian wine, moreover, recently "Houses of Georgian wine" were opened in China, and last year the latter has become the third largest market for Georgian wine export after Russia and Ukraine. In 2016 export volume of wine from Georgia to China comprised 5.3 million bottles, which exceeds the index of 2015 by 98% (in 2016 5.8 million bottles of wine were exported to Ukraine from Georgia)[13]. Moreover, by indices of first quarter China (2.39 million bottles) has already surpassed Ukraine (1.87 million bottles) and is the second (recording 383% growth)[14].
Thus, it may be concluded that Georgia's being a model country will become even more evident in near future, when that country starts gaining benefits from free trade regime with the EU and China, as well as visa free regime with the EU. Meanwhile, drop in oil prices, Western sanctions and further possible strengthening more engrave Russia's economic condition and don't promise any good perspective in Armenia's choice of EAEU (the EU is Armenia's number one trade partner).
Finally, Georgia-Russia current relations may also be guidelines for Armenia-Turkey relations. Like Armenia and Turkey, Georgia and Russia have no diplomatic relations, however, that circumstance doesn't obstacle Russia keep the border open, establish and develop trade and economic relations. Contrary to Armenia and Turkey, Georgia and Russia realized if they chose establishment of diplomatic ties as a first step (settlement of Abkhazia and South Ossetia issues), establishing and developing trade and economic relations would be rather postponed. Creation of the portfolio of a Special Representative for Relations with Russia (Zurab Abashidze) and his continuous meetings with Russian counterpart (Grigory Karasin) is directed to that after the Georgian Dream came to power. In Abashidze-Karasin meetings, launched once in 2-3 months, issues related to trade and economy were being touched upon. Moreover, those meetings have the tendency to enlarge, and representatives from the ministries of economy and transport, foreign affairs of both countries started to take part in them.
In addition, it may be instructive for Armenia and Turkey that in months following disruption of diplomatic ties between Russia and Georgia in 2008, Russian Federation Interests Section at the Embassy of Switzerland to Georgia and Georgia's Interests Section at the Embassy of Switzerland to Russia were officially launched in March 2009. This was meant to protect citizens of the two countries both in Georgia and Russia.
In settling their mutual relations, Georgia and Russia have adopted the strategy of forwarding by small steps, which Armenia and Turkey may use in normalizing their relations.
REFERENCES
---